Rock n Blues Today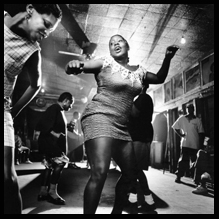 In onda ininterrottamente dal Marzo 1989, Rock 'n' Blues Today detiene il primato italiano come uno dei programmi radiofonici del settore più longevi.
Condotto fin dalla sua prima edizione da Simone Bargelli (dal 2000 collaboratore della rivista IL BLUES) offre ai suoi ascoltatori, attraverso 80 minuti settimanali, una completa panoramica sull'attuale scena blues internazionale, senza dimenticare altre sonorità fondamentali della cultura afro-americana come il jazz e stili più eclettici e ironici come il rockabilly.
Dal Gennaio 2006 lo show è inoltre reporting station per le radio chart of Living Blues magazine.
Su RadioRCC-inBlu:
il MARTEDI' ore 21.00
il VENERDI' ore 20.05 (replica)
il SABATO ore 22.00 (replica)
la DOMENICA ore 18.30 (replica)

  HELLO GUYS!…
"Rock n Blues Today" is one of the oldest blues radio programs in Italy.
It's been on-air since March 1989 hosted by Simone Bargelli (also a reviewer for IL BLUES magazine  since the year 2000).
Every Tuesday and Friday (with its 180 minutes) the show gives its listeners the opportunity to find out the most recent releases in the independent blues music scene from delta blues to jump blues, from swing to soul, a little bit of jazz and rockabilly, too.
In January 2006 "Rock 'n' Blues Today" has become a reporting station for the radio chart of Living Blues magazine.
….Simone Bargelli approaches his radio show with a serious love, respect and knowledge of the tradition of blues music. For blues lovers in Italy and everywhere, blues radio is in good hands with "Rock n Blues Today". "Rock n Blues Today" is a creative force in blues-radio journalism, Bravo!
Tad Robinson
Su RadioRCC-inBlu:
- Martedì h 21.00 (Tuesday 9.00 pm)
- Venerdì h 20.05 (Friday 8.05 pm)
- Sabato h 22.00 (Saturday 10.00 pm)
- Domenica h 18.30 (Sunday 6.30pm)
FREE PODCAST available also on iTUNES

Facebook
Instagram
Twitter